Winches
Twelve Volt Car Trailer Winches For Sale
We have sold and used Superwinches exclusively on our vehicles since the early 1970's.
Our Internet Winch Special on a base EX-1 Superwinch for car trailers is available for $299 plus $36 for shipping and handling.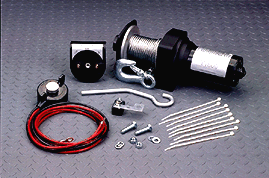 EX1 Features:
Freespooling
Cable Tensioner/Levelwind
Permanently Lubricated Gear Set
Battery Cables with Terminals
Circuit Breaker
Handsaver Bar
Remote Mounted Switch
EX1 Specifications:
Rated Line Pull: 1,000 lb (454 kg)
Stall Load: 1,350 lb (612 kg)
Motor: 0.6 hp
Gearing: Differential Planetary
Gear Ratio: 123:1
Brake: Dynamic
Wire Rope: 5/32" x 25' (4mm x 7.6m)
Dimensions: 12" l x 5.38" d x 5.69" h (305mm l x 137mm d x 145mm h)
Weight: 15 lb (7 kg)
Other Superwinches are Available for Four Wheel Off Road Vehicles and Other Applications.
Contact us with Specific Information Regarding Your Desired Usage.