Frames
Tracy Performance Offers All Years of New, Used, and Rebuilt Corvette Frames Including 1997 and 1998 Coupe and Convertible Front Firewall, Transmission Tunnel, and Rear Firewall Backbone Assemblies. We also Offer Crossmembers, Repair Sections, Brackets, Body Mount Brackets, and Body Mount Kits.
Our service center can also perform complete frame replacements. Here is a short video clip of us separating the frame on a 1969 Corvette Convertible.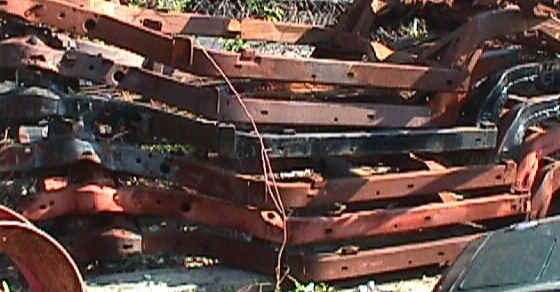 We Have Availability on Most Corvette Frames and Frame Components.
This is an Interchangeability Listing of Corvette Frames:
1953-1954 All 6 Cylinder, no fuel pump depression
1955 All 6 Cylinder and V-8, with fuel pump depression
1956-1958 All, without rear upper axle link
1959-1962 All, with rear upper axle link
1963 Convertible
1963 Coupe
1964 Convertible
1964 Coupe
1965-1966 Convertible, with big block balancer depression
1965-1966 Coupe, with big block balancer depression
1967 Convertible, with big block balancer depression
1967 Coupe, with big block balancer depression
1968 Manual, without diagonal kickup braces
1968 Auto, without diagonal kickup braces
1969-1973 Manual
1969-1973 Auto
1974 Manual, with telescoping rear impact brackets
1974 Auto, with telescoping rear impact brackets
1975 Manual
1975-1979 Auto
1980- 1982 All
1984-1996 Several Variations
1997 All, Frame
1997 All, Backbone Tunnel Assembly
1998 All, Frame
1998 Convertible, Backbone, Tunnel Assembly
1998 Coupe, Backbone, Tunnel Assembly
1999 Convertible
1999 Coupe
1999 Hardtop